Far East Materials Trade Center Signs the Framework Agreement of Strategic Cooperation with Yongsheng Group
  On August 29, the signing ceremony of strategic cooperation between Yongsheng Group and Far East Materials Trade Center Co., Ltd. (hereinafter referred to as "Trade Center", the wholly-owned subsidiary of Far East Smarter Energy Co., Ltd., stock code: 600869) was held in the conference room of Trade Center. At the ceremony, Cai Hao, Assistant to General Manager of the Trade Center, and Li Jianhao, General Manager of Yongsheng Group respectively introduced the development courses of two companies, showing the cooperative intention of synergetic win-win, and signed the framework agreement of strategic cooperation on behalf of the two enterprises.
    As the representatives of two companies, Cai Hao and Li Jianhao sign the agreement
  According to the agreement, based on the fundamental principle of equality and mutual benefit, honesty and trustworthiness, long-term stable cooperation, powerful alliance and joint development, taking the core industries and superior resources of both sides as the basis, the two parties explore and construct the cooperation modes in the fields of materials purchasing, financial service, consultation service and so on between the Trade Center and Yongsheng Group, promoting the resources integration of those fields, and fully exploiting the advantages of both sides to achieve resource sharing and complement, as well as improve the competitiveness of two companies. Both sides believe that the cooperation will help the two parties improve economic effectiveness, social benefit and brand benefit.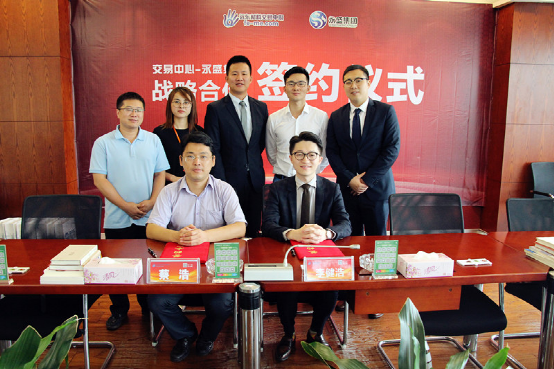 The signing ceremony
  The public information shows that since its foundation, Yongsheng Group has stood at the forefront of times. By virtue of the concept of "integrity, cooperation, reciprocity, learning, innovation" and good credit and performance, the group insists on the technical innovation, becoming the "Key High and New Technology Enterprise of the National Torch Program", "National Development Base for Differential Fibers and Yarn-dyed Fabric Products" and "National High-tech Enterprise". The subsidiaries of Yongsheng Group include Yongsheng Advanced Materials Co, Ltd. (stock code in Hong Kong Exchanges and Clearing Limited: 03608. HK), Shining 3D Tech Co., Ltd. (stock code in the New Third Board: 830978), and Hangzhou Yongsheng Group Co., Ltd. The products and service markets of Yongsheng Group are introduced to more than 60 countries and regions like Europe and America, the Middle East, Southeast Asia, South Africa, Latin America and Australia.
  Lin Bojie, General Manager of Top Merit Creation Limited/Shanghai Aoxin Trading Co., Ltd., Shi Jun, Deputy General Manager, Qiao Tonglei, Assistant to Director of Finance Department and Transaction Settlement Department of Trade Center, Sheng Jun, Assistant to Director of Marketing Department, Zhou Yibing, Assistant to Director of General Manager Executive Department and other staff accompanied to attend the signing ceremony.