Leaders of Zhijiang Switchgear Visits Trading Pay to Establish a Strategic Partnership
On September 11, Ma Chuanxing, President of Hangshen Group Co., Ltd. and Gao Hongxiang, Regional Manager of Hangzhou Zhijiang Switchgear Co., Ltd (hereinafter referred to as Zhijiang Switchgear) and the other one visited Far East Trading Pay Network Co., Ltd. (referred to as Trading Pay) under Far East Smarter Energy Co., Ltd. (referred to as "Smarter Energy", stock code: 600869) for investigation and exchange, to seek business cooperation. The reception personnel include Sun Lu, investor, Board Director and General Manager of Trading Pay, Zhang Wenhua and Zhao Chao, Director Assistants of Operation Department of Trading Pay, as well as Ma Fangyao, Director Assistant of Operation Department (Electrical Business Group) of Trading Pay. The two parties conducted in-depth exchanges and discussions on cooperation matters and exchanged views and opinions.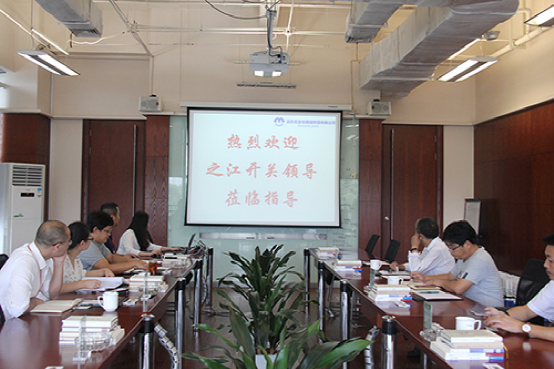 Symposium
At the symposium, Sun Lu expressed a warm welcome to the guests, and introduced the operation situation and future development planning of Trading Pay. Sun Lu said, since its establishment in 2011, Trading Pay has deeply integrated and fully cooperated with its parent company "Smarter Energy", gave full play to the advantage of the marketing network constituted by more than 1200 marketing managers and more than 200 exclusive shops of Smarter Energy as well as online technical advantage of Trading Pay, vigorously implemented OTO strategy, gradually found an OTO e-commerce road corresponding with its own development in the fields of wire and cable, electrical equipment and electronic through more than 6 years of development. Today, Trading Pay has become one of the most reliable, well-known and influential electrical & electronic e-commerce transaction platforms.
In the future, Trading Pay will actively look for famous suppliers in electrical and electronic industries, hoping to carve out a win-win development road through alliance between giants and closer cooperation. Therefore, Trading Pay wishes that the two parties can reach a consensus, carry out deep cooperation, complement each other"s advantages, and achieve mutual improvement.
Ma Chuanxing, President of Hangshen Group Co., Ltd., highly praised the achievements Trading Pay has made and introduced Zhijiang Switchgear; he said that Zhijiang Swithchgear is a key and major enterprise under Hangshen Group, and a modern enterprise integrating R & D, production, sales, and services of high-low voltage switchgear assemblies and high-low voltage electrical apparatus elements, intelligent electronic instruments and electrical materials. He hoped to take the opportunity of investigation in Trading Pay to strengthen the relationship between each other, establish a long-term and stable strategic partnership, learn from each other, and realize win-win cooperation.
After that, the two parties conducted in-depth exchanges and discussions on relevant issues and matters concerning cooperation, and exchanged views and opinions with each other, preliminarily reaching some consensus. The two parties both agreed that establishing a long-term strategic partnership between Trading Pay and Zhijiang Switchgear is a win-win choice, and they will fully implement cooperation and seek for mutual development during follow-up work.
Founded in 2011, Trading Pay is a professional e-commerce platform for wires, cables and electrical and electronic products under Smarter Energy. Relying on more than 30 years of strong industrial base of Smarter Energy, now it has turned into an e-commerce platform taking custom-made wires and cables, prompt goods, hardware accessories and electrical and electronic products transaction as the core, serves upstream and downstream customers in the patterns of information matching on supply and demand, deal making, spot transactions, supply chain finance and OTO, and provides one-stop solutions integrating the relevant services including procurement, sales, payment, logistics, quality inspection and finance for customers.